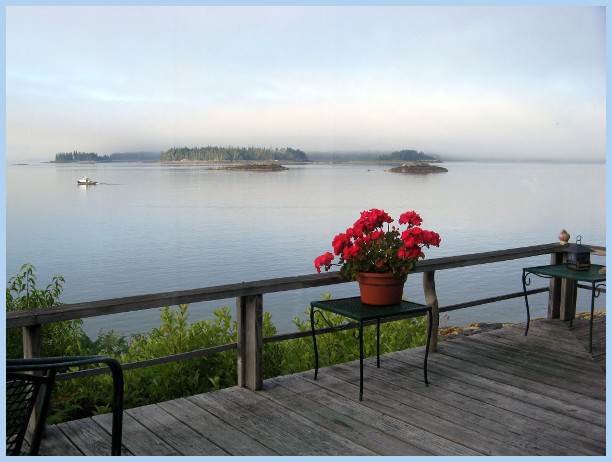 Serendipity is a comfortable cottage right ON the Penobscot Bay. Originally constructed from an old barn on the property, the owner/artist designed and built a studio for himself. The cottage passed into another artist's hands, who added the two bedrooms. I am the third owner and I've tried to make this special cottage a comfortable, eclectic haven for visitors to our beautiful Maine coastal isle of Little Deer.
The cottage has a wrap-around porch with outdoor furniture and charcoal grill. The views are amazing...south to southwest, watching the sun set over the Camden Hills.
There is a waterfront bedroom with a queen bed; a small back bedroom with a queen futon and a queen bed in the loft (accessible by ladder). There is a 3/4 bath with an additional outdoor shower...great after kayaking or hiking! The kitchen is fully equipped (Sorry, our seasonal cottage cannot accommodate a dishwasher or washer/dryer). Serendipity is totally equipped with all your linens/sheets/towels/blankets/dishes etc. There's a DVD player and a CD/radio, M/W and BBQ. There are shelves of books and games. We have WiFi and Smart TV but no local cable....no worries...you'll be too busy watching the views and the wildlife of the Penobscot Bay!